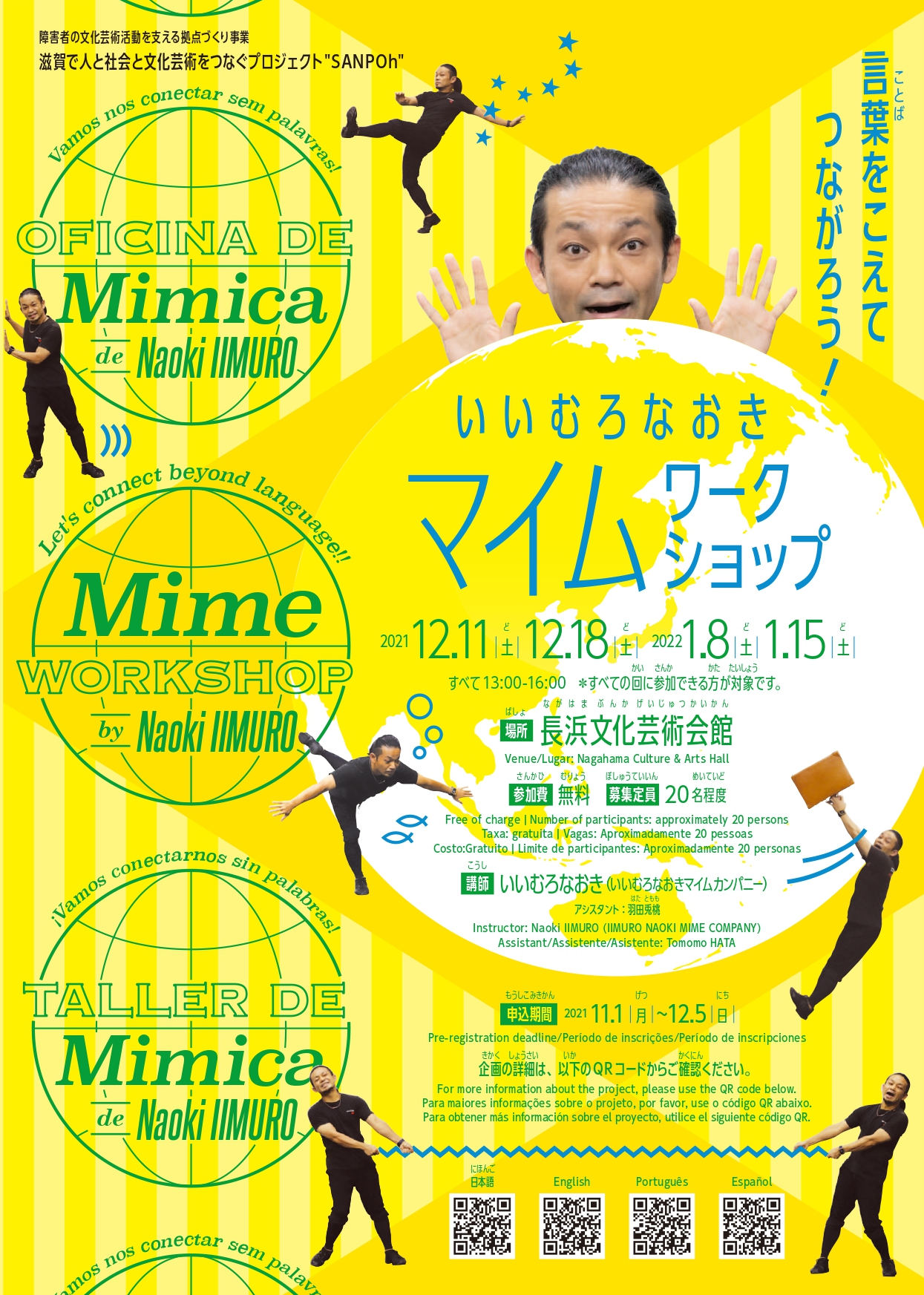 Click here↑
This workshop is open to everyone, regardless of nationality or disability, to experience pantomime.
※There will be interpreters.(English,Portuguese,Spanish)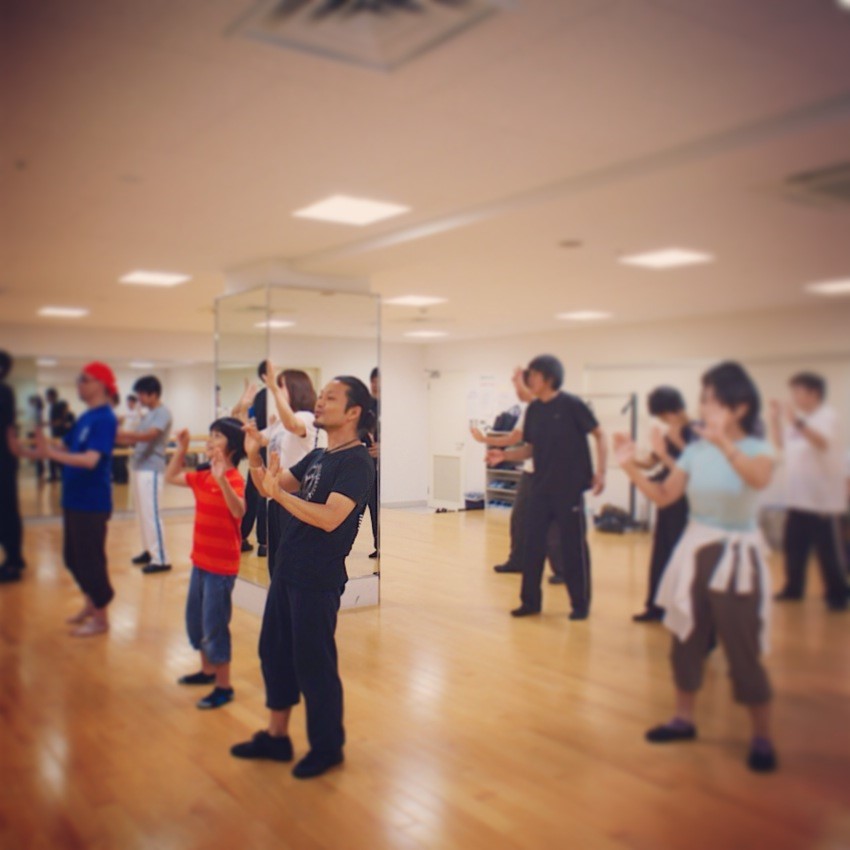 Project overview
■Date and time
① December 11,2021(Sat.) 13:00 to 16:00
② December 18,2021(Sat.) 13:00 to 16:00
③ January 8,2022(Sat.) 13:00 to 16:00
④ January 15,2022(Sat.) 13:00 to 16:00
*Reception opens at 12:45
*You must be able to attend all sessions.
■Venue
Nagahama Culture & Arts Hall
*8-minute walk from JR Nagahama station.There is no dedicated park.
*If you are coming by car, please use the "Hokoen" car parking.
■Participation fee
Free of charge
■Number of participants
approximately 20 persons
■Intended for
Primary school students to adult
■Clothes
Easy-to-move clothes
■Application Period
November 1 (Mon.) – December 5 (Sun.)
■How to apply
Click here【Apply from the internet】
※If this is difficult for you, please contact us by e-mail or fax.
Instructors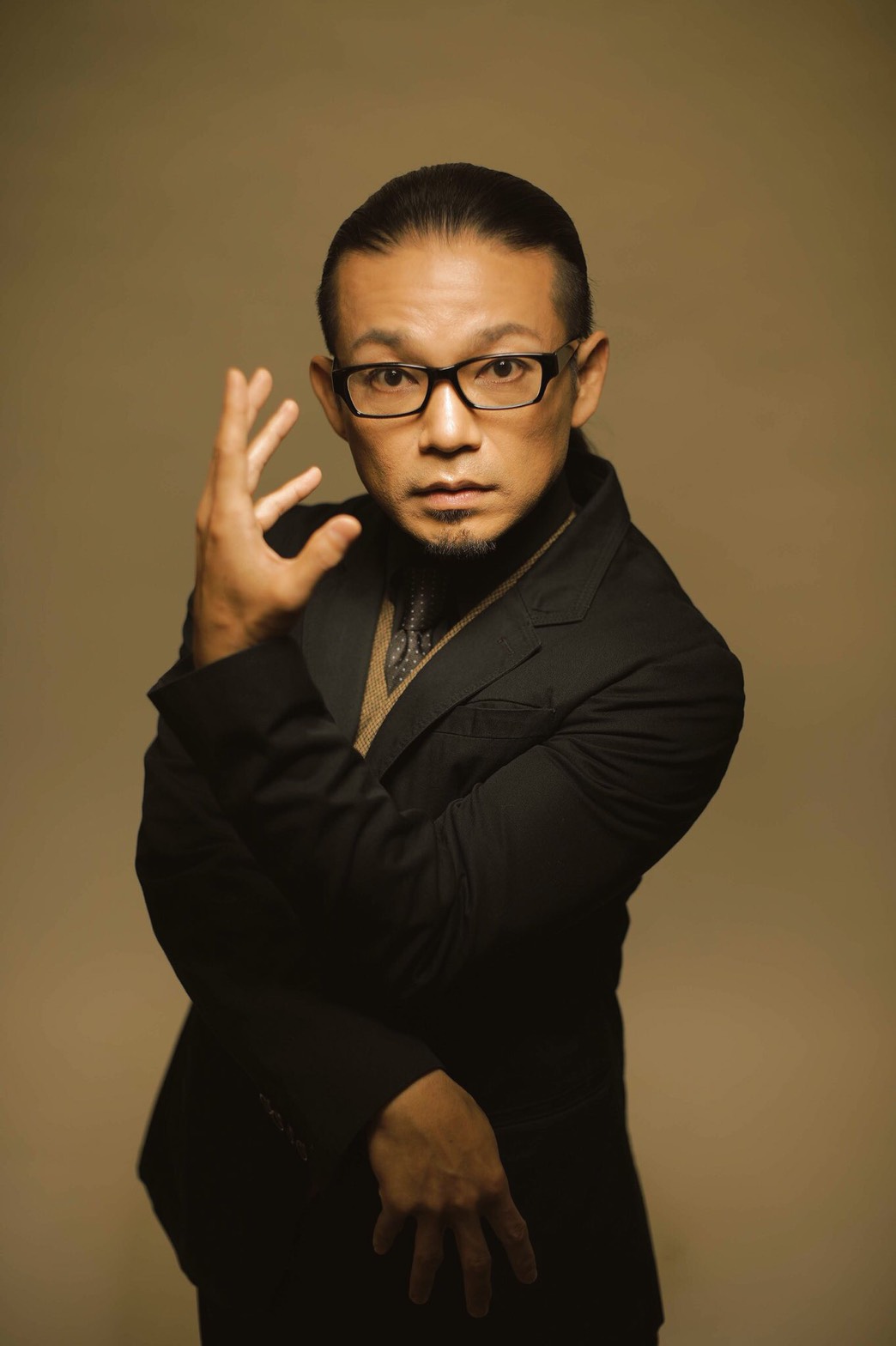 Takashi Horikawa
(kutowans studio)
Naoki IIMURO (mime, director, choreographer)Graduated from Hyogo prefectural Takarazuka north high school Theater Section (Drama-course).Went over to France to learn the mime in 1991.
Entered the mime school<Ecole Internationale de Mimodrame de Paris Marcel Marceau>.Learned mime under Marcel Marceau..Graduated from <Ecole Internationale de Mimodrame de Paris Marcel Marceau>..
After graduated from , entered highest course of contemporary dance at Conservatoire .Graduated from the Conservatoire with the first prize by a judge's unanimity.Started stage performance of mime, dance, and workshops teaching.In 1998, moved the base from Paris, France to Japan began to act in Japan and established his own mime company as IIMURO NAOKI MIME COMPANY.
He continues to perform mime in the non-verbal theater "GEAR", which has been running indefinitely in Kyoto.Performed in the opening ceremony of the Tokyo 2020 Paralympic Games.
*Became a member of Japanese Government Overseas Study Programme for Artists (2005)
*Gold medal for the mime improvisation section at Delphic Games (2009)
*Special prize in street performance competition at Kobe Biennale (2009)
*Hyogo art encouragement prize (2011)
*KOBE ART AWARD grand prize (2019)
WEB https://mime1166.com
Information
Biwako Arts and Culture Foundation
Regional Creation Department
(9:00-17:00/Closed on Tuesday)
TEL:077-523-7146 /FAX:077-523-7147
E-MAIL:shiga.kyousei2021@gmail.com
Society and Arts Networking Project in Ohmi "SANPOh"
When cultural and artistic activities meet and connect with various fields of the local community, such as welfare, education and international exchange, a variety of values and richness are created." SANPOh" is a project to increase the number of such meeting places throughout Shiga Prefecture.
In this project in Nagahama, we are working to create a place where diverse people can enjoy together, regardless of language differences, through mime workshops that use body and facial expressions."